So this is my first What I Ate Wednesday this year (and the only third or fourth one ever).
Courtesy to the lovely blog Peas and Crayons for hosting this weekly fun!!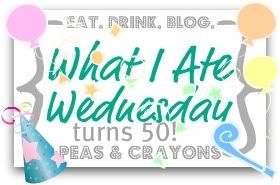 Breakfast: I didn't feel much for anything this morning since I woke up later than usual, so just a cup of French Vanilla and Rose Tea (in my usual "The World's Greatest Sister" mug).
Lunch: Tomato oatmeal soup with chinese cabbage and chicken.
Mum made the tomato soup in the morning, and all I had to do was add some oatmeal and reheat it.
Dinner: Austvina and Julz came over to meet Mum today, so I fixed up some easy dishes for dinner.
From top right – buckwheat pancakes, red cabbage coleslaw with tahini and mixed beans, guacamole, baked sweet potatoes and egg&cucumber sushi rolls.
Okay, so I didn't really make the sushi all on my own…would have been a mess without Mum's help!! But the other stuff turned out fine.
And for dessert, we had this box of chocolate that Austvina got for us from happy lab.
Orchard, vine and spice palettinos…premium handcrafted chocolate pralines, more fruity than carmen miranda's headpiece, more flavour than a freshly squeezed juice.
Ah…too cute to be eaten!!! But tasted great
This one was my favourite (and the only white piece), and it tasted just like a peach. The filling was not too sweet either and just perfect.
So that's all for this week's WIAW!!!