Hello people
How has your week been going so far?
As I was saying in my last post, I was actually feeling down about the whole thing about uni starting again and yet feeling so unconfident and lacking in passion.
Today, when I was thinking of how quickly my mum's stay over here in Sydney would pass away and be over, I felt like a pitch dark hole would be waiting for me, and that I would have nothing to look forward to everyday. That I would be living everyday, struggling with uni work, with no particular motivation.
I thought I'd be unhappy everyday.
But now through many months of emotional roller-coasters, I've learnt that all feeling pass eventually.
Nothing is permanent.
As long as I live, I know I will be able to find light in something. Just that I don't know what that is yet.
This thought pulled me out of complete devastation this afternoon.
Just wanted to share this with you guys here, just in case any of you felt that way recently.
Remember that nothing is permanent. All struggles, emotional or physical, will eventually pass. You may feel like you're drowning with no direction sometimes, like there is nothing good to look forward to. I just want you to know, that maybe you don't feel like it right now, but the sadness and pain will always disappear at one point.
Anyway, I thought I'd also share with you all What I Ate Wednesday as well today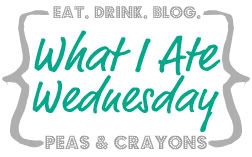 Head over to Peas and Crayons for more WIAW from all over the world
Here's mine from yesterday….
Breakfast: Udon with shimeji mushrooms, tofu, kale stalks and 
konnyaku
(a jelly-like substance made of a starchy vegetable, often used in Japanese dishes), in a soy sauce and dashi base soup.
Mum made this for me because I wasn't feeling too well Tuesday night…love you mum <3 Tasted great, just like her cooking always is.
Lunch: Classic felafel pita wrap from yummba, an Isreali felafel place inside Bondi Junction Westfield (with hummus instead of tahini).
I fall in love with yummba each time I get a wrap from there! Not the usual food court sort of food. Seriously so good.
DInner: Chick pea salad with zucchini, red capsicum and celery with coriander paste and honey mustard dressing.
An unphotographed cinnamon swirl with some strawberry bliss chai green tea,  in my new Darcy teapot from T2 <3
I am absolutely in love with this teapot
But yeah, that's pretty much all I have for today.
What did you eat out recently that made you go omg-so-good-I-could-eat-this-every-week?
-Asuma xxx