Sei-jin-no-hi (成人の日), or the Coming of Age Day as translated to English in Wikipedia, is a day when those who have reached the age of 20 (or hatachi, in Japanese) in the previous year are celebrated and recognised as adults in the community and the nation. The ceremony is called Sei-jin-shiki (成人式), where all the newly-turned adults share the festivity together, along with their family and friends too.
The reason I'm writing about Seijinshiki today, well, is because I am turning 20 this year, which means that I would be attending the ceremony next year in January. That's about a year from now, but most people start preparing for the event a couple of years before, and at least a year before the ceremony at the latest. This is mainly because getting the kimono ready could be time consuming, let alone finding the right one. And once you have chosen the kimono, you're going to need to find the appropriate accessories for that kimono, blah blah blah. And it doesn't end there, but I'm not really too sure about the other details. I don't really think I can do anything about all these stuff from overseas, so I'm just going to see if I can visit Japan in June to get everything in place. Now you might think it's just way too much trouble to go through just to attend an event, but it is kind of a big deal, and I don't think Mum would have it otherwise. It will probably be the biggest event in your life, well, before marriage, I guess. But I really don't know about how that would go, so yeah, huge chance that this Seijinshiki might be the biggest deal for me.
Okay so I think I've rambled on about how much work this might all be, but that's not saying that I am not excited about this whole thing. Believe me, I am really psyched about this. The only pity being that I won't be able to share the moment with my grandparents, who have passed away. But I know they would just be so happy for me, and I'm happy enough to know that.
Now, most girls wear a "furisode", which is basically a kimono with longer sleeves that drape all the way down toward the calf. Furisode is a lot fancier than the usual kimono because of that reason, and it's typically only worn by young females. The most quintessential furisode for Seijinshiki are red or pink, but there are lots of other colours and designs ranging from traditional to contemporary styles these days. I thought I'd just go for red in the beginning, you know, the safer option. But after talking to Mum about it a bit more, we decided to get a purple/violet/lavender one, since that was my grandmother's favourite colour (and my favourite colour was also lavender when I was in kindergarten; I loved her so much that I had to have the same favourites as her). Anyway, the biggest reason that made me write this was not because I wanted to go on and on about an endless topic, but I kind of wanted to share the beauty of kimono with all of you. So here are a couple of photos of beautiful kimono, some of which I think may be close to what I might get eventually.
Lavender-on-black is pretty chic…lavender as the base would be too pale and not really fancy enough for the occasion. I think it would kind of make me looked washed out or something. So yeah, black. But as you can see, the obi (belt) is kind of bright, standing out of the black. I think I really like this one: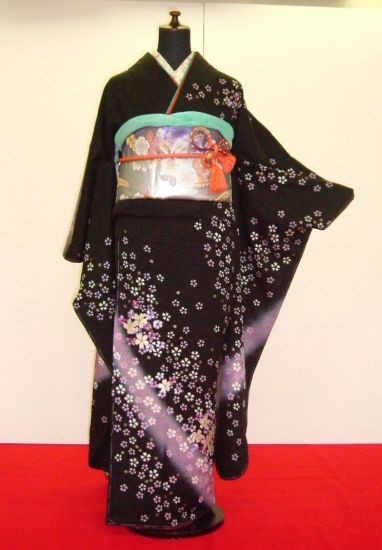 And this one here below is the bright red fancy typical furisode for Seijinshiki. Pretty, but not me:
If I actually went for red though, I'd want it to be something a bit toned down, like this:
And never would I dare to go for this one below:
If something of a modern design, at least something like this:
But I think I'm more into a traditional style:
I do think this one is beautiful too, but probably not for Seijinshiki for me:
Oh, and by the way, when I said purple, I didn't mean this kind of a hue, but something a bit more toned down:
And though this one over here is red, I actually really like it too (and the model, Cecil Kishimoto from Okinawa, is one of my favourite Japanese models too):
Well I guess I could just go on showing you photos after photos, but there's got to be a limit to everything so I'm going to cut it out around here for now. I will probably show some of these to Mum and see what she thinks about them. I could really do with some experienced eyes here to help me out.